Pet experts agree that every dog (and even experienced dog owners) can benefit from a dog trainer's expertise. From teaching your dog basic obedience to more advanced skills, a great dog trainer can make all the difference. That's particularly true for new dog owners. Even if you have years of experience with canine companions, a trusted trainer can help you troubleshoot problems and hone your abilities. Plus, group classes have the wonderful benefit of socializing your pup.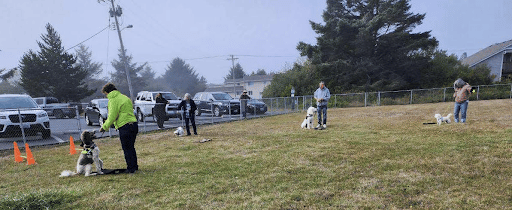 Scoopology friend and part-time scoopologist, Estie Schmid, is the kind of dog trainer any dog owner can trust to provide your dog mental stimulation and grow the bond between you and your pet. Estie, owner of A New Beginning Dog Training, is an American Kennel Club evaluator who believes, "every single one of us raising dogs today have an incredibly important responsibility in how our dogs will live their lives." Unfortunately, it is not uncommon for dog owners to change the way they live their lives because of the poor behavior of their pet. Excessive barking, jumping, leash pulling, and counter surfing are all behaviors Estie can help with.  After working with Estie, you will experience increased levels of happiness, lower stress levels, and a stronger connection between you and your pet.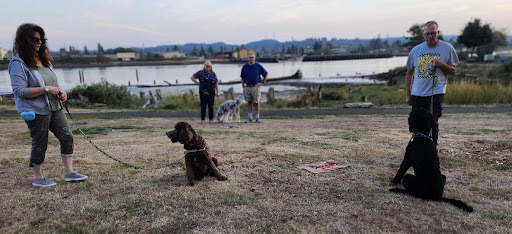 A New Beginning Dog Training class is a great way to help your dog be more obedient and happier. This is especially true for puppies and new dog owners. A New Beginning class focuses on basic commands and allow you to control your pet around family, friends, and other animals. Having a dog that runs wild, barks all the time, attacks others, or cannot get along with other pets is embarrassing and can significantly hinder your ability to take your pet out of the house. An obedient dog can go just about anywhere and be around almost anyone, from babies and children to other dogs and pets, without the stress of wondering what might happen. If you plan to travel with your dog, obedience training is also essential to ensure that you can maintain control in more chaotic or unfamiliar environments like hotels, trains, cars, or airplanes.
Estie offers 4-week training classes in Mason, Grays Harbor, Thurston & Kitsap Counties. In addition, Estie offers in home training. For more information visit A New Beginning Training Facebook page @anewbeginning dogtrainingllc or visit Estie's website www.anewbeginningdogtraining.com. You may also send Estie a text at 360-349-2560.