Our scoopologists at Scoopology Pet Waste Removal can only do their job if your dog does their doody business outside. While we certainly make house calls, we prefer the great outdoors. Potty training is an absolute must for dog owners, but unfortunately your new dog does not come with instructions. It takes a bit of determination and a whole lot of patience to teach your new puppy (or adult dog) to learn the right time and place to relieve themselves.
Nearly all experts agree positive reinforcement is more effective than negative reinforcement when it comes to potty training. Our canine friends are just like us humans – both dogs and humans respond better to encouragement and praise than we do to fear of punishment and pain.

Punishment is never an acceptable or successful training methodology. Research shows that using aversive methods in dog training is associated with an increased risk of fear and aggression. Negative reinforcement training methods are unsafe and unhealthy. Outdated "training techniques" used to suggest hitting a dog with a newspaper or rubbing their face in their excrement to "teach them a lesson." Dogs do not associate these behaviors with doing something wrong. Instead, punishment teaches your puppy to become fearful of their owners or other people who try to punish them.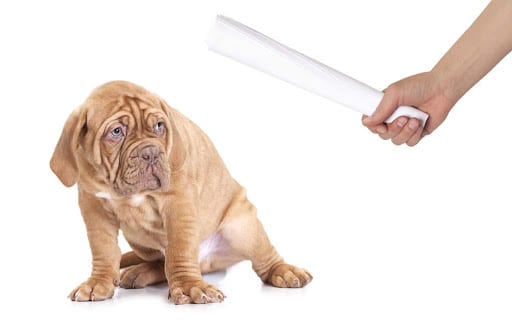 If your puppy has an accident, don't say a word, instead quickly lift them up and take them outside to the potty area. Negative reinforcement will just end up causing stress and confusion. Besides which, it violates the principle that the first priority with a scared dog is to help them feel safe. There is no need to put your dog in a situation where they feel fear when potty training them. There is no doubt potty training can be frustrating, but remember to practice patience and compassion, no matter how old your dog is!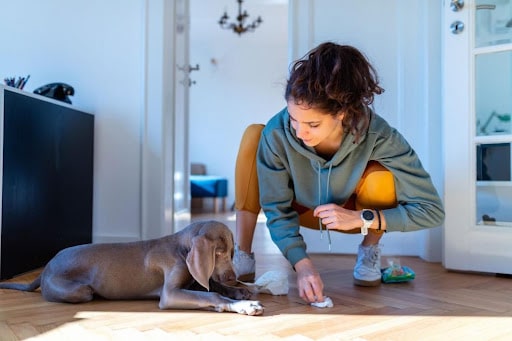 Potty training your dog takes time. A dog should be able to go four or five months without having an accident before being considered fully house-trained. Dog owners need a plan and a routine. The following are a few tips from Scoopology Poop Removal to help you successfully potty train your canine companion:
Build a training routine. Monitor daily events and your puppy's individual habits when setting up a schedule. Take your puppy outside to the same spot at the suggested following times:
Immediately upon waking

First thing in the morning

Last thing before bedtime

After playing

Upon waking up from a nap

After chewing a toy or bone

After eating or drinking

Once every hour or less
Puppies, especially, need to potty within 15 minutes of waking up, eating, drinking, playing, and before going to bed. Expect to take your pup out every two hours during the day and a little longer at night 4-6 hours at the most. Eventually your dog's bladder control will improve but for several months expect to have your own sleep interrupted. 
Pro Tip (from experience): Avoid playing exciting games before your puppy has successfully eliminated in the appropriate place, as this is likely to distract them from the main purpose of going outside. 
A Regular Spot and Specific Phrases Help
Choose a specific place to designate for your potty-training friend to use as their elimination spot. You may also want to use a specific phrase such as "potty time" or "go pee" each time you see your puppy or adopted adult dog sniffing and showing signs of going. This will usually take many repetitions until they get it. This helps your dog associate that now is the time to go and a reminder to call Scoopology Pet Waste Removal. Once they successfully do their thing give them a treat immediately and loads of praise – remember Pavlovian Conditioning. 
Reward-based training helps build a good relationship between you and your furry friend and makes them feel safe and secure, which will also be useful in future training. Positive reinforcement focuses on teaching what you want as opposed to negative reinforcement which focuses on what you don't want. Rewarding your dog immediately with plenty of praise, a treat, or play is the best way to reinforce the behavior you want to encourage. Once potty training becomes routine the behavior will become habit and more automatic. Sure accidents may and likely will happen, but one day it will just happen and the phase of potty training will be over. The article 5 ways to reward your dog without food is an excellent read to add to your reward tool kit.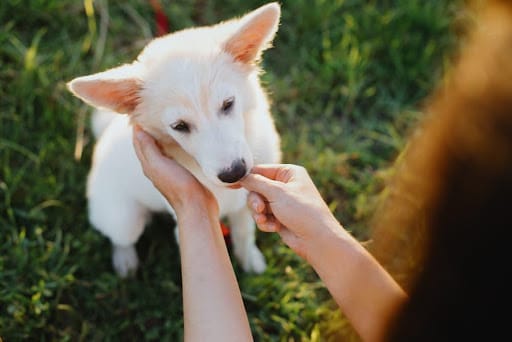 Once your dog is potty trained your next step is to call Scoopology Poop Removal. You may be able to teach your dog where to go but no one has successfully trained a dog to pick up their poo on their own. And, if you think potty training is a pain just try keeping up with the piles all over your back yard. Yes, they may eat it – we wrote a blog on that as well – My Dog is Eating Poop Should I Be Concerned.
Good luck fellow dog lovers. Potty training your dog is not for the faint of heart but well worth it once you and your dog achieve this important milestone. Remember, Scoopology Pet Waste Removal is the company that will do the doody work for you. Call us at 360-612-7667 (POOP) – if you got poop (dog poop that is), we scoop!