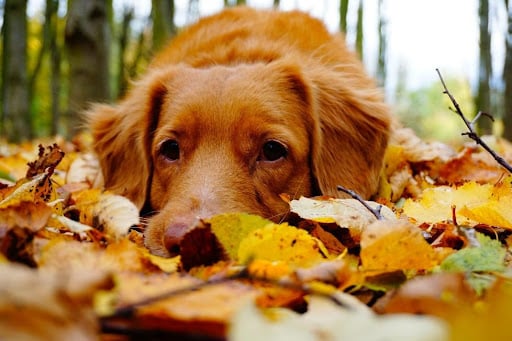 Those dog days of summer are behind us, and autumn is here.  Every season brings new adventure and a few dangers to our dogs.  Here's a list of a few precautions dog owners should be aware of as the days get shorter and the nights a bit longer:
Beware of Fungus
Not all wild mushrooms are toxic; however, it is very difficult to identify safe fungi from the dangerous. While most mushrooms are safe for dogs to eat that doesn't mean they should.  When it comes to your dog's wellbeing, there's really no such thing as an edible wild mushroom. It's best to keep your dog away from all mushrooms. Check your yard regularly and remove and dispose of mushrooms.
Fleas
Did you know fall is the peak season for fleas? The number of fleas on animals in the fall has a tendency to double when compared to the spring. The theory behind this "flea surge" occurring in the autumn is because there is generally an increase in precipitation and the temperatures stay around 70 degrees. Fleas thrive in these conditions. To learn more check out the article Why Are Fleas Worse In The Fall?
Antifreeze is a No-No
Antifreeze is extremely toxic to animals and can cause fatal kidney failure. Unfortunately, dogs and cats find the liquid quite tasty and will eagerly drink it up when given the chance. Dogs can easily get into antifreeze when it leaks from cars. They can drink from puddles of antifreeze or just step in them and lick the antifreeze off their paws. Even ingesting just a little antifreeze can be fatal—less than ½ a teaspoon per pound can be enough to kill a dog.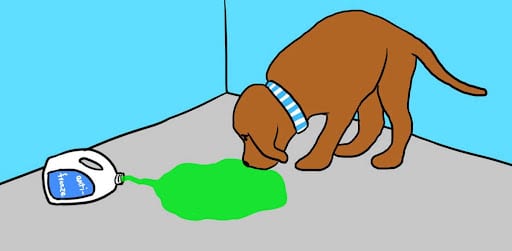 Holiday Foods are Dangerous
Fall and the upcoming holidays often include a lot of tasty sweets and treats. Many of the foods we enjoy are dangerous for our dogs. Most of us know to keep our dogs away from chocolate and onions – lesser known dangers include grapes and raisins, turkey skin, ham and gravy. It may be difficult to resist those puppy dog eyes, do your dog a favor and resist offering them special treats that are harmful.
Fall is for Fun
Fall is a special time of year for you and your dog. Avoid the above dangers and enjoy the following:
Visit a Pumpkin Patch

Take a Hike

Pick Apples

Enter a pet Costume Contest