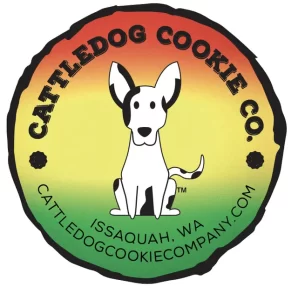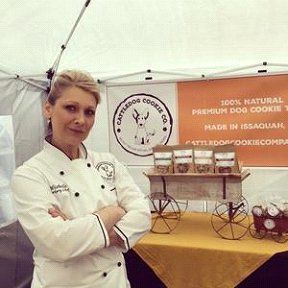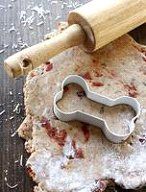 About Us and What We Stand For
These are the real deal.
Cattledog Cookie Co. creates only 100% natural, premium treats for dogs. Unlike most "natural" dog treats that are made in a plant using artificial and chemical preservatives, ours aren't meant to last on a store shelf for 10 to 24 months—and that's a good thing!
These treats are a bit softer, so even the tenderest of mouths can enjoy them. (And even if they do feel a bit hard for your pup, 12 to 14 seconds in the microwave should soften them right up!)
Handcrafted to a higher standard.
We work with local suppliers to source the freshest and most authentic ingredients and hold ourselves to a higher standard to ensure the highest quality. Our goal is to make your pup's taste buds happy!
What Premium means to us:
Cheese: We shred our own cheese for every batch. We do NOT use pre-shredded cheese, which can contain added cellulose that your pup doesn't need! This process takes a little more time, but it's totally worth it!
Sun-dried tomatoes: We use sun-dried tomatoes that are actually dried in the sun, NOT the kind that are force-dried in an oven with added sulfur dioxide.
Uncured bacon: We use only uncured meats in our treats, NOT regular bacon which contains nitrates and nitrites we wouldn't want to pass along to your pup. Our locally sourced meats are cured with celery powder, organic honey, and sea salt.
All of our premium treats are made with gluten-free, organic and non-GMO ingredients! They contain NO artificial or chemical preservatives, like the glycerin, syrups, sugars, colors, flavorings or other unnecessary additives you see all too often in mass-manufactured treats. If you can't pronounce it, we don't use it! We also use absolutely NO corn, soy, wheat, or molasses because those aren't healthy for our pups.
What's left? The great taste of simple, down-to-earth, good ingredients that dogs (and humans) love!
PROUDLY Made in Issaquah, Washington!
A BIG thanks to some of our awesome suppliers!
Sunset Hill Honey
Woodinville, WA
CB's Nuts/T-Mobile Park peanut guys
Kingston, WA
Hempler's Meats
Ferndale, WA
Wilcox Eggs
Roy, WA
Carpinitos Farm
Kent, WA
Traina Foods Grower/Sun Dryer
Patterson, CA
Bob's Red Mill GF Flour
Clackamas, OR
Darigold Cheese
Issaquah, WA
So Delicious Organic Coconut Milk
Eugene, OR